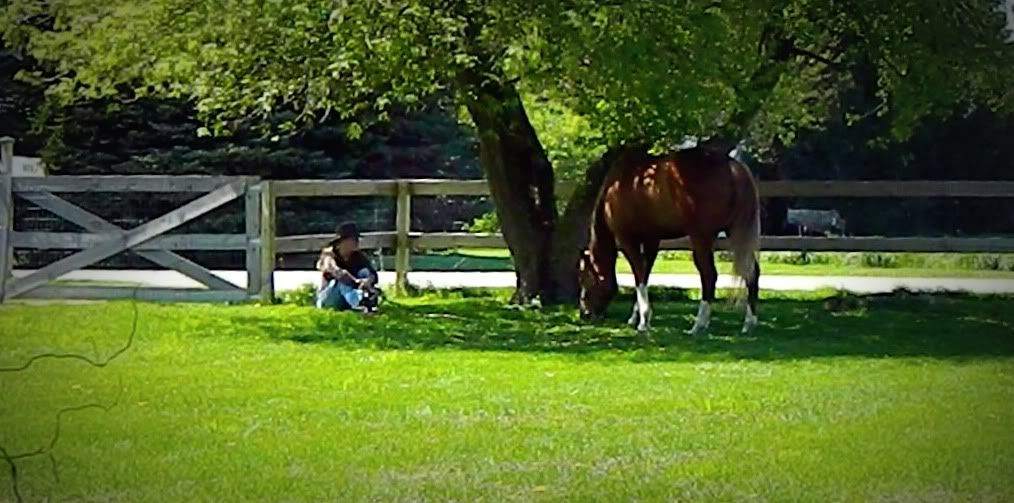 I'm forcing myself not to be hard on myself by saying I've been a bad blogger. Because there are so many other things to do with my day and if anything, I'm actually glad that the computer has taken a back seat for the past few months. It has been so nice out and instead of talking about Eddie on here, I'm out there playing with him!! For the past few days I've been cracking down on my final exam. I've been memorizing the things I'm going to be graded on so that I don't miss anything - mainly with treatment recommendations and exercise schedules. But it's going really well. I have 9 things memorized out of 13. Four more and I'll be all set!
Well, I posted a video about Eddie's birthday yesterday and we had one fabulous birthday! All the video clips were taken from yesterday and we had so much fun. We did our lead changed out in the pasture, rode in the outdoor for a long time, went for a trail walk and were doing stuff for 2+ hours. I love good weather and I love being out in the barn!
So yes, Eddie's Birthday was yesterday. He is ten years old! Time has gone by so fast. We bought him when he was 4! Wow. I am beyond blessed to have him in my life and no words can describe how much I love him and care for him. He has completely changed my life and has turned into the most beloved horse I could possibly wish for. Happy Birthday to most incredible horse that I have ever known!!!
Hope that you all are having a great April,
Romans 10:9-10
"If you declare with your mouth, "Jesus is Lord," and believe in your heart that God raised him from the dead, you will be saved. For it is with your heart that you believe and are justified, and it is with your mouth that you profess your faith and are saved."