Lately, Eddie and I have been making HUGE progress! It's like I'm finally immersing myself into a new realm where we can set high goals, achieve them and soar. I know that was poorly worded, but I can't really describe it. Here, maybe if I explain what what we have been doing lately things will be more clear.
First of all, Eddie and I have been jumping and cantering a lot. Wow. Am I actually saying that? Cantering? A lot? Yep I am and it is because I am confident and Eddie is ready.
Second, Eddie has taken up a new game. The cutting game with Scout! We opened up the round pen so now he has a very large paddock. It is SO nice! They have a ton of room to play and kick up their heels. Literally! Eddie was chasing Scout and cutting him. Going back and forth, you know, cutting!
Third, I'm really, really starting to like the idea of going to a Buck Brannaman clinic in the next two-three years.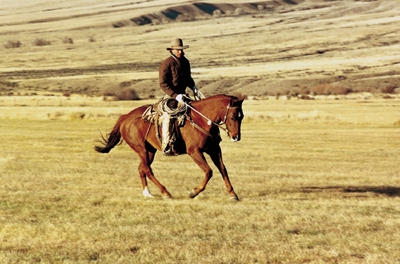 After seeing his documentary and hearing great things of him from our friends at Karmik Acres, I really like his approach and he is just a legend. Well, I guess there are lots of other horsemen like Mark Rashid or Martin Black or... I know there are others I just can't rattle them off at the top of my head.
But yeah, I'm shooting for going to a clinic with Eddie sometime. We have lots of great friends and they are very willing and generous with their trailers. And I think Eddie would be ok. He hasn't left the farm since April 21st, 2007 but after seeing Diesel leave and come home just fine, I think Eddie would be ok too. We'll see. God knows what is in store for us. :-)
~Lea & Eddie~